Entertainment, Classes, & Coaching

With Reina Bolles
Ms. Senior California 2015
Ms. Senior San Diego 2015 and "Talent Award" Winner

"Life is a journey, and we get to choose the roads we travel. Now, many roads are smooth and straight. But there are those roads with twists and turns, ups and downs, bumps, and even a few potholes along the way. Fortunately I have my Faith, my family and friends, love, laughter, joy, and service to provide an abundance of blessings along these exciting roads as I journey through life."

"My passion is to empower children, teens, adults, and seniors to transform their lives through the performing arts and a healthy lifestyle."

---
Entertainment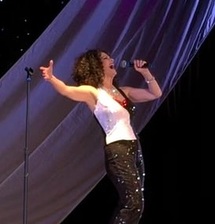 1. In Concert ~ Singing Standards, Musical Theater, Jazz, Blues, and Pop
2
.
The Power of an Arts Education
(
for Children, Teens, Adults, Seniors) ~
with Husband/Educator/Arts Advocate Ron Bolles
Artist Fees
Negotiable ~ 100% of proceeds support
The Bolles Family Scholarship
at San Diego State University and/or
Scholars Music Project,
a fund with
Arts for Learning: Young Audiences of San Diego
The Music and the Mirror (Vimeo)
Is It Really Me? (mp3)
Wade in the Water (mp4) (Vimeo)
Click on the photo to see me performing "The Music and the Mirror" as Ms. Senior California at the 2015 Ms Senior America Competition.
The Intro to my presentation... "Dancers take class, audition, perform, & are back in the dance room taking class. Reina has lived her dream. As in "A Chorus Line", for Reina it's all about "The Music & the Mirror". Please welcome Reina Bolles, Ms. Sr. California."
---
All performers in Classic Divas are or have been professional entertainers. Their mission is to bring joy to the souls of our senior population and to support and promote Ms. Senior California of America, Inc. The Classic Divas are Seniors serving Seniors.

Program Features
Up to 60 minute programs ~ Music to fit your needs ~ Self contained with our own sound system

Artist Fees for Classic Divas
Negotiable ~ 100% of proceeds support Ms. Senior California of America, Inc.

Vimeo samples of Reina in performance

Reviews
"At the December 7th Clipper's Club concert at La Jolla Presbyterian Church , Reina Bolles sang like an angel in her performance of 'O Holy Night'! Her professionalism in performing this Christmas standard was heavenly! She has a beautiful mezzo voice that conveyed the meaning of the birth of our beloved savior, Christ Jesus, in a time honored carol that we all know well. It was a distinct pleasure to prepare and perform this work with her and the La Jolla Brass that evening! Brava to Reina for her artistry and faith."
John Lorge
Conductor/Arranger La Jolla Brass

"Reina - How can we ever thank you enough for such a beautiful gift to the Christine Seelig Memorial Service? You were simply wonderful and Hal Seelig was so moved and so grateful for all you did to celebrate her life and to comfort him in his profound grief. You – and it – were perfect! We certainly look forward to working with you again!"
Lori Thrower
Wedding and Memorial Coordinator
La Jolla Presbyterian Church

"Reina - Thanks for sharing your beautiful vocal talents with those attending the Seelig Memorial Service today. Hal Seelig was very pleased with your interpretation of the song, that he and Christine had sung on their wedding day. It meant a lot to him that it be performed in a certain way, and you were sensitive to his wishes yet kept it reverential to our Lord Jesus Christ. It was a wonderful offering in Christine's memory exemplifying the happiness she brought to everyone around her. Thanks again, and we will look forward to inviting you to sing in many other Memorial Services in the future."
Michelle Whitney
Wedding and Memorial Coordinator
La Jolla Presbyterian Church

"Reina Bolles is a wonderful vocalist! Her love of entertaining and pleasing her audience is evident in her song choices, and animated performance. She will make you want to smile."
Abigail Ford
Activities Specialist ~ Casa de Manana

"Reina made her delightful debut at White Sands La Jolla most recently. She was not only talented, but engaged the residents in a few of her interpretive songs. We look forward in having her back next month to dazzle us."
Janis Gabay
Activities Director ~ White Sands La Jolla

3. Music Education Lecture/Singing Demo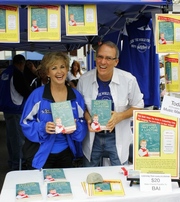 This is an exciting presentation by husband and wife team Ron and Reina Bolles
Why do kids need a music education? How are seniors affected by involvement in the arts?
Enjoy the wide range of musical selections and vocal stylings by Reina Bolles
Learn facts and findings on the importance of arts education and arts involvement for all ages by Ron Bolles
20 - 60 Minute Presentation
Donations gratefully accepted to
Young Audiences of San Diego; Memo Line:
Scholars Music Project
Reina and Ron Bolles at the Bonitafest Book Signing for
"Learning That Lasts A Lifetime"
---
Recent Lecture/Demo Presentations
7/31/14 Bonita Optimists ~ Music Education Lecture/Demo

Review
"Ron and Reina's Arts Education Demo at our club meeting was FANTASTIC!"
Dr. Lucille Le Mieux
Member and Past President of Bonita Optimist Club

Classes and Coaching

1. Theater Dance for Seniors Ages 55+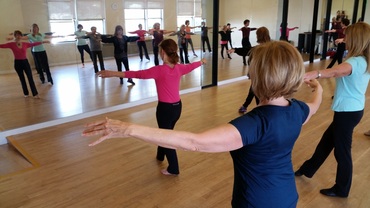 If you are someone of "Chronological Excellence" or close to the "Magic Age", and want a FUN way to get a good workout, re-live your childhood, and/or begin a new physical activity and work your brain at the same time, join the "Aging Creatively Theater Dance Class" at Dance Place in Liberty Station every Tuesday, 11:00-12:00. Class is very body friendly and open to ALL skill levels. It includes warm-up, across the floor, strength, balance, stretches, dance routines and more. Only $5 per class. Bring your friends! Drop-ins are welcome!

Jean M. Isaacs ~ Artistic Director ~ San Diego Dance Theater
2650 Truxtun Road, Suite 108
San Diego, CA 92106
Phone/Fax (619) 225.1803
www.sandiegodancetheater.org

Reviews:
"This is my first Jazz class and I really LOVE IT. You are an fabulous teacher, and I enjoy learning from you." - Jane Horne
"Thank you for being such a loving, patient, talented teacher. Finding your classes has been a highlight in my 2014 year." - Peggy Padilla
"OMG. Thank you soo much. I just want you to know that I am loving your class. It is sooo encouraging. I feel so beautiful and good when I leave, thank you." - Catherine McGee
"Thank you so much for all of your help and support in learning the dances. I appreciate your faith in me!! You're choreography was just adorable! My family said they liked your dances the best, and I agree. They were so much fun! The audience loved them! I've been in afterglow after the shows. What a delight!! Thanks again for everything!" - Joni Brobst

---
2. Musical Theater Vocal Audition Coaching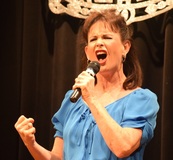 Reina Bolles knows what it takes to create a successful musical theater vocal audition. This class is for everyone, whether you need to learn the audition process, are looking for new ideas to build your vocal presentation, or just want practice time in front of others. You will receive 12 pages of handouts, actively participate during each session, receive one-on-one attention, and get plenty of practice on your audition song before the BIG day. Be STRONG at your next audition!



Reina performing at the Ms. Senior San Diego 2015 Competition


Reviews:
"You did a FANTASTIC job, Reina!!! (re Editing Music)...I love your class and I love and appreciate your gifts and talents!" - Chris Dunsmore
"I really love your class and I am learning so much." - Erin Grettenberger
"Thank you so much! Last night's class was SO fun!" - Diana Hunten
"Thanks a million for all the work you did to help us polish up our talents for our auditions. What a fun class!" - Marianne Bickhaus
"The class was fun, safe, and educational; A wonderful experience for all – even for those of us who have not sung before. What a delightful and challenging experience. Reina (is) the best at bringing out talent." - ‪Jeanie Wolf
---
3. Artistic Direction and Choreography ~ Choral Groups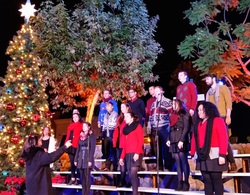 Here with San Diego Christian College

---
4. Healthy Mind, Healthy Body - Optimal Health and Weight Loss Coaching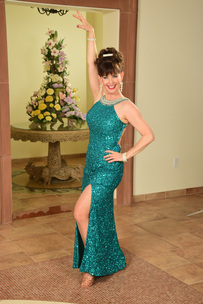 Optimal Health ~ Your personal guide to weight loss and achieving your health goals (With partners Dr. Greg and Denise Czer) https://reinabolles.tsfl.com

Reina Bolles is 62 years old. Having a career in the performing arts her entire life has required her to maintain her health. Whether dancing, singing, or choreographing, Reina has needed to stay healthy for each activity and performance.

As a dance teacher, Reina has seen how important it is for her students to take care of their health so that they can be in class and enjoy each movement. Optimal health and the performing arts go hand-in-hand.

A healthy body also transfers to a healthy mind. Helping adults find optimal health will hopefully transfer to the entire family. Healthy children are able to focus in school and enjoy an active childhood.

The path toward optimal health will look different for each person. The ultimate goal is to continue a forward journey toward optimal health for the long term, not the short. Reina Bolles, along with well-known physician, Dr. Greg Czer, will guide you on your journey to achieve your personal health goals.

---
---
Music speaks what cannot be expressed,
Soothes the mind and gives it rest,
Heals the heart, makes it whole,
Flows from the heavens to the soul.